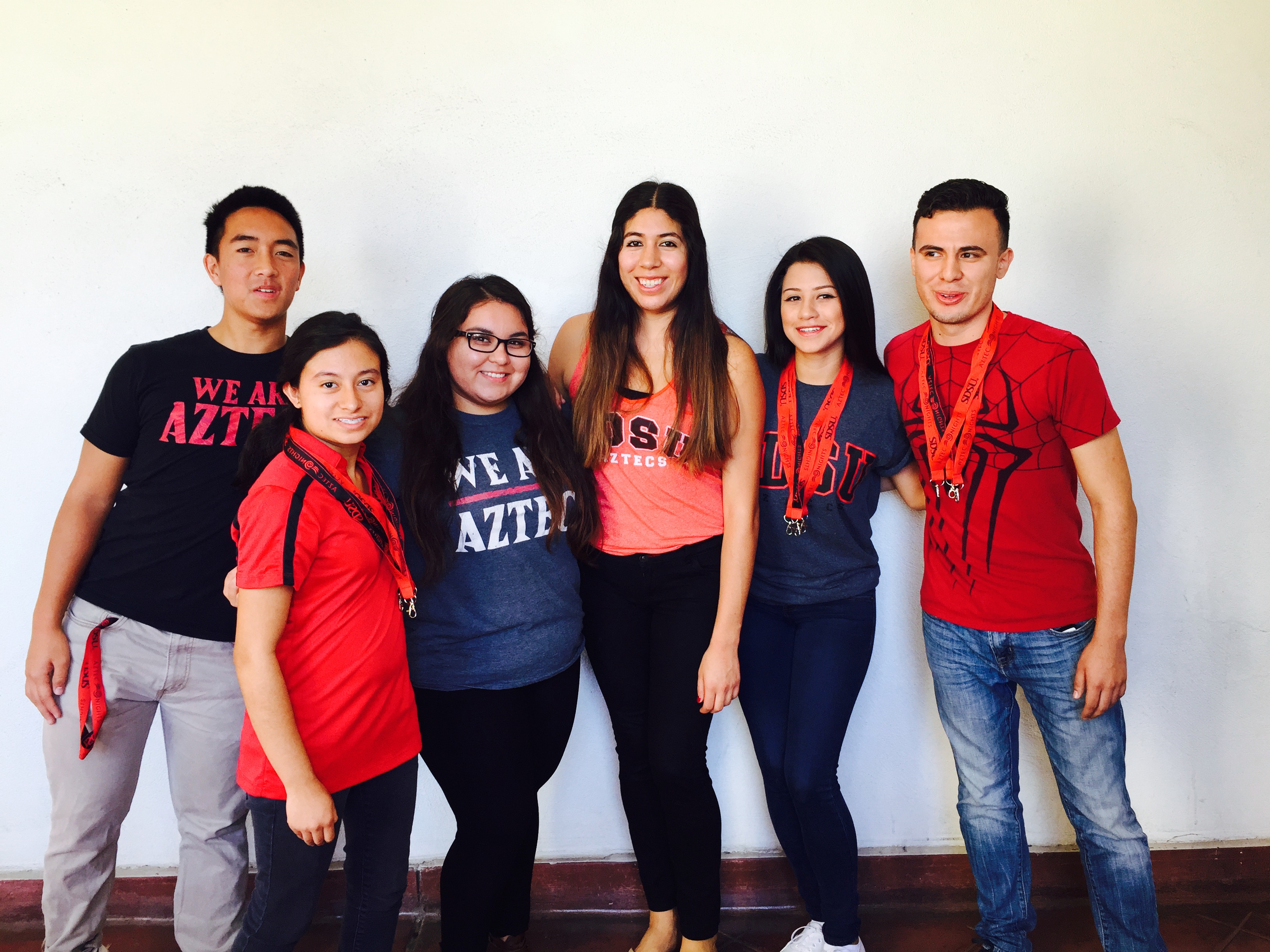 Compact Scholar Panelists at the 16th Annual 7th Grade Visit
Students usually go on college visits when getting ready to graduate high school and apply for college. But middle school students from the Sweetwater Union High School District (SUHSD) get a unique opportunity to visit SDSU while in 7th grade!
On October 24th SDSU held the annual 7th grade visit for the 16th time, welcoming thousands of middle school students and parents. The day started off with a welcoming ceremony in Viejas Arena followed by workshops, information fair, entertainment and a campus tour.
With twenty-one workshops being offered the Compact Scholars Program found a perfect way to differentiate themselves from the others. During three forty five minute sessions over one hundred future Aztecs listened to their fellow Compact For Success alumni talk about what it's really like to be in college.
Janet Abbott and Amanda Fuller, Program Director and Academic Coordinator respectively, were present to help introduce the program but the Compact Scholar six-person panel did most of the talking in order to give middle schoolers a clear idea about what they can expect when they get to college.
Each and every one of the panelists had a unique story to tell. Some of them lived on campus while others commuted, some were part of undergraduate research, others worked on campus, some were part of different organizations on campus, and others studied abroad.
Salvador Bernal (far right), Environmental Engineering junior and Castle Park graduate, spoke about the clear differences between middle school and college and his Federal Work Study experience. While sophomore Thelmalyn Montenegro (second on the left) talked about internships and her undergraduate research during the summer.
Senior Marketing student Jessica Nicasio (third from right to left) recalled her semester abroad in Madrid, Spain and encouraged the students and their parents to start thinking about international programs. "Going abroad was truly a life changing experience both personally and academically. I always knew that I wanted to study abroad and didn't know how to make it happen but SDSU has so many resources to get you there including the DUS International Scholarship I was eligible for because I am a Compact Scholar" said Nicasio.
The sooner student's start thinking about college the better. The annual 7th grade visit really encourages students to commit to college and complete the requirements to make sure they obtain their guaranteed admission to SDSU and sticking to the "I pledge to go to college" commitment.
Compact provides students with the tools necessary to get to college, excel, and ultimately graduate from college. These panelists are just six examples of the outstanding work Compact Scholars are accomplishing on campus and the bright future they are building for themselves.

3,709 Compact Scholars have enrolled at SDSU since the first class entered college in 2006!