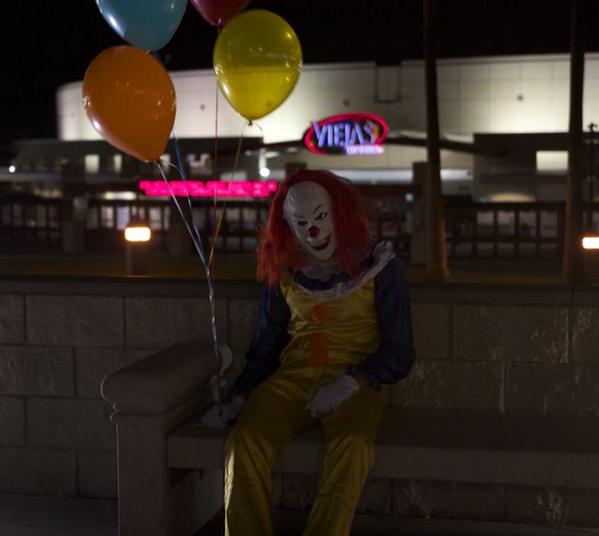 Fall is finally here and so are midterms, and clowns — lot's of them too. People dressed up as horrifying clowns are roaming the streets of the United States in search of, well — I'm not even sure.  What do clowns look for? They appear out of nowhere: streets, parks, and even freeways. At this point, I don't even know what's more scary: facing my midterms, or facing a clown!
The dress-up-as-a-scary-clown phenomena has taken over all social media platforms and probably even people's sanity. Every time I scroll down my timeline on Twitter, a video of a clown chasing people pops up, which is both funny and terrifying. I never really paid much attention to these clowns until a friend showed me a tweet during our economics class. It was a picture of a clown sitting in front of the Viejas Arena late at night carrying a bouquet of balloons. My first thought was, "Thank God I don't live on campus!" For once, it's an advantage to be a commuter student!
Clowns aren't the only scary thing about SDSU in the fall. Midterms are just as terrifying. When it comes to studying, I need a space where it is completely quiet and isolated from commotion, and studying at home can be quite distracting. I've done well in my exams so far, but the thought of taking my first midterm in a couple of weeks is making me nervous.
I went to Love Library for the first time last week and it was life changing. The dome and the attached building are smack dab in the center of campus, near the East Commons and the SDSU Bookstore. I have to admit, I was a little intimidated when I first saw the size of our library, but once I finally gained the courage to enter, I was immediately grateful. Libraries are gems, and I swear, I will be taking complete advantage of what our library has to offer. In addition to the books, magazines, newspapers, art collections, couches, desks, and free wi-fi, there are study rooms, which are extremely useful when you've had a busy day and need a place where you can concentrate on your studies, regardless of the time of day. Most importantly there is SILENCE. Since the library is huge, there is always room for everyone. It is always possible to find an area where you can study. It might seem overwhelming to find your way around the library the first time, but there are diagrams showing the layout of the building, and there are people everywhere, including security guards, that can help you.
Luckily for us Aztecs, we can access the SDSU library at all hours of the day! It never occurred to me that a school library could be open 24/7, but be it Monday at 3 P.M., Friday at midnight, or Sunday morning at 6 A.M., our library remains available for studying and quiet time. Amazing! Also, don't forget there is an online website specifically for the library where you can look for books, articles, etc., and their availability and location in the library:
If it weren't for the miraculous Love Library at SDSU, I'd be lost this semester. I'll be there until fall is over, in preparation for my exams. Maybe my focus will save me from running into one of these infamous clowns in person. I mean, how often do you see a clown in a library? Hopefully not anytime soon.
-Roxana Becerril, Freshman Blogger