Student Spotlight: Irvin Lomeli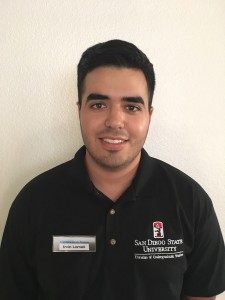 Name: Irvin Lomeli
High School: Otay Ranch High School
Major: Accounting
Expected Graduation Year: 2019
Favorite Quote: " Learn how to accept losses without being defeated" – Phil Niekro

Hobby: Soccer and Baseball
What is your favorite part about SDSU? My favorite part about SDSU are the sports teams especially the basketball games, they are always full, there's a lot of energy and you are pretty much guaranteed a good ball game.
How has the Compact Scholars Program helped you throughout your college career?  The Compact Scholars program has helped me significantly throughout my college career as it offers classes specifically for commuters in the program. By taking these classes you meet more students in similar situations as yours and you become more
involved in school activities.
Tell us about an experience you have had outside of class. (Job, internship, project, etc.)
Over summer vacation I worked at Pureflo Water Company located in Santee. At Pureflo I worked in the production department where I had to work different machines that bottled and capped the different types of water.
What is your favorite class on campus and why? One of my favorite classes on campus was RWS200 with Common Experience this class allowed me to better my writing and allowed me to become more involved in school activities as it offered many events one could attend.
What do you plan on doing after graduation? After graduation I plan to continue my education and pursue my masters degree in Accounting. After that I hope to find a good job here in San Diego.
What advice would you give to incoming freshmen? Advice I would give incoming freshmen would be to learn time management skills and to not procrastinate. In high school, teachers remind you and encourage you to get your work done, here most of the time you are on your own and it is your responsibility to turn things in on time.