Student Spotlight: Alessandra Santana
Name: Alessandr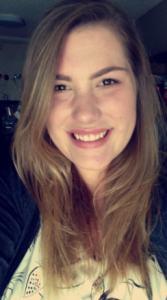 a Santana
High School: Otay Ranch High School
Major: International Security & Conflict Resolution and Spanish
Expected Graduation Year: 2019
Favorite Quote: "There's no elevator to success. You have to take the stairs." – Anonymous
Hobby: Volleyball & Reading
What is your favorite part about SDSU? My favorite part about SDSU is getting to make amazing friends from different parts of the country and around the world. I love being a part of such a welcoming community at SDSU.
How has the Compact Scholars Program helped you throughout your college career? The Compact Scholars Program has provided me with information to be the best student I can be whether it be help with finding a job or informing me about opportunities to be successful in school.
Tell us about an experience you have had outside of class. (Job, internship, project, etc.) I lived on campus my first year and it is an amazing experience. If you are thinking about living on campus I highly encourage you to. You will make so many friends and have more time to make connections with professors since you live on campus. The residential staff makes it an amazing experience by organizing activities, and most dorms provide computers, printers, and quiet studying areas to help you be academically successful.
What is your favorite class on campus and why? My favorite classes are my Spanish classes. I have had two classes and both of my professors are so incredibly helpful and care about all their students. They make the class so interesting and engage all their students to help you learn such a beautiful language.
What do you plan on doing after graduation? I plan on working towards a Masters degree and beginning a career in National Security.
What advice would you give to incoming freshmen? I highly encourage you to get involved on campus and join organizations. It gives you a chance to meet so many creative and intelligent students, make connections, and make friends.  Also, congratulations; SDSU is an amazing university and these couple of years will be the best!