Student Spotlight: Taylor Webster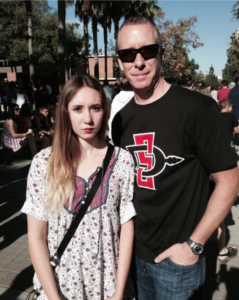 Name: Taylor Webster
High School: Olympian HS
Major: Mechanical Engineering
Expected Graduation Year: Spring 2018
Favorite Quote: "I want to be the very best – like no one ever was" -Pokemon Intro, Season 1.
Hobby: Water polo, hiking, biking.
What is your favorite part about SDSU?
My favorite part of SDSU is that it's close to home. Having grown up as a Navy kid, I am used to move around a lot. Its nice to be able to take a break from that and just stay in one familiar place for a little while.
How has the Compact Scholars Program helped you throughout your college career?
Compact Scholars actually awarded me a $1000 scholarship my freshman year, which was tremendously helpful for me paying rent, buying textbooks, etc. The program has also provided experiences like speaking on panels where I met other compact scholars and hopefully helped prospective students learn more about SDSU.
Tell us about an experience you have had outside of class. (Job, internship, project, etc.)
One of the coolest experiences for me is my internship opportunity. I am a part of the Naval Research Enterprise Internship Program (NREIP) where I am working as a civilian Engineer on a nuclear submarine base just outside of Seattle. I actually drove all the way here (A 23 hour drive with no stops/traffic) right after finals. My projects are classified, so I can't discuss anything, but its a super cool experience!
What is your favorite class on campus and why?
My favorite class on campus is ME 240: Introduction to Materials Engineering. The class had interesting subject matter (a sort of cross between statics, the study of forces on objects, and chemistry, the composition on an atomic level). Not only did I learn a lot in this class, I also felt like I got a better grasp on what I specifically want to do/accomplish in major, and I am considering specializing in or getting a Master's in a materials subset of Mechanical Engineering. The professor was extremely passionate about the topic and made each lecture interesting and fun. He always answered my questions, made me feel valued as a student, and even wrote me a letter of recommendation. By far my favorite class.
Are you involved in any organizations or clubs on campus?
I am involved in the Society of Women Engineers (SWE) and Society of Automotive Engineers (SAE Baja). SWE is an organization dedicated to informing the public about STEM careers and furthering women in STEM. I've held an officer position for this club 3 years now (my entire college career!) as first secretary, and currently outreach coordinator. SWE members are very active on campus, leading both outreach events like teaching high schoolers to code and professional events like career fairs. We also attend conferences every year all over the country, (Seattle, Philadelphia, LA…). SAE Baja is another engineering student org that designs and manufactures a 300 cc dune buggy/car from scratch and then competes against other schools from all over the world in a series of three 4 hour endurance races over the summer. I was on the transaxle team this year, where we designed and machined a 3 gear reduction transaxle (that's a fancy word for the thing that powers the wheels); I also worked on other tasks like the carbon fiber body and the upholstery!
What do you plan on doing after graduation?
Ideally, after graduation I will work for a space related company like NASA, JPL, or Blue Origin.
What advice would you give to incoming freshmen?
Some advice that I would give to incoming Freshman is that you don't have to do everything. When I was in high school I was the over-achiever, type-A personality. I captained three sports, took a full load of AP classes each year, was in band, drum-line, orchestra, and theatre. I felt like I had to do EVERYTHING or I would be a failure, and that I needed all of these things to get into college. The truth is, you should only do the things you ENJOY, not things to impress someone else or for fear of missing out. Life is a lot more fun when you give yourself room to breath and relax. So when you get to college, don't go crazy joining all the clubs and sports teams that you can – take it slow and find out which ones you enjoy. No one will look at your resume and be disappointed that you weren't in five student orgs.