My name is Jessica Nicasio and I graduated in May 2016 with a B.S in Business Marketing and a minor in Entrepreneurship and Spanish. In my business, I help creative entrepreneurs and small business owners design a beautiful and modern website that converts. JNL Media Co. is a digital marketing agency that focuses on Squarespace website design, branding, and content management.
What compelled you to start your own business? What do you hope to accomplish through this opportunity?
When I graduated college I was faced with a tough choice: Would I go after my passion and start my own digital marketing business, or go the corporate route? For more than one reason, I chose to take the corporate route and started working for corporate America. It seemed to be the best choice, and it was at the moment, but I quickly realized I couldn't let go of the idea of starting my own business. I was learning a lot in my corporate sales job but one thing was missing: my creativity.
I did a couple of internships in social media marketing and content management so I was familiar with the field but I just didn't know how I could take my skills and actually start my own business. I was lucky enough to run into a group called the Bucketlist Bombshells, which focus on teaching millennial women how to launch a service based business that allows for freedom to travel, and enrolled in their courses. I soon realized that starting my own business was possible so I took my love for marketing, design, and entrepreneurship, and here I am now.
Through my business I hope to give creative entrepreneurs and small business owners the power to effectively present their services by transforming their ideas into beautiful brand identities with lead generating websites. On a more personal note though, I plan to build this business to a point where I am able to inspire other millennial women to do the same. I also have a love for travel so this location-independent business will ideally support me financially and enable me to travel and work remotely. 
What are a few challenges you've faced and may be currently facing with running your own business?
I think this is true for all business owners that are just starting out but it's more of a learning experience than an actual challenge. When you are starting your own business you wear all the hats from marketer to accountant so you can see how this might be overwhelming. When you're your own boss you have to make sure you have everything straightened out but I am lucky that my passion is marketing and design so I really enjoy it. The legal, accounting, and budgeting sides are what I find the most challenging.
Is this something you always saw yourself doing?
I wouldn't say "always," but from an early age I knew I wanted to do my own thing. I couldn't picture myself working in a 9-5 job with only two weeks of vacation for the rest of my life. I knew that there had to be another way; a way that would allow me to express my creativity while providing value to others. I thought about it during college but I was focused on my classes and didn't even know where to begin so I didn't give it a shot then.
What resources / activities / programs at SDSU enabled you to find success throughout college?
I would say that my study abroad semester and joining the board of two campus orgs impacted me the most.
Studying abroad in Madrid, Spain in Spring 2015 literally changed my life. I know it sounds cheesy but it honestly did. I was a commuter student so I never did the whole going away for college thing, so you can imagine how terrified I was to spend a whole six months away from home. Something told me I would regret it if I didn't do it so I took a chance and moved 5,500+ miles across the world. Being abroad taught me so much about not only myself but the way the world works. It made me appreciate other cultures and really changed my view of the world. I would definitely attribute my study abroad semester to giving me the travel bug. I am now at 17 countries and counting!
Becoming involved on campus came post-study abroad. I feel like being abroad took me so out of my comfort zone that when I came back to SDSU, I was ready to continue the trend. Like I mentioned earlier, I was a commuter student so I never took the time to get involved on campus. I would literally go to class and then straight back home. During my last year at State, I became a board member of two on-campus organizations. The people I met and speakers I got to interact with were hands down the best part of my college experience (besides my study abroad semester of course).
What positive behaviors / mentalities / lessons have you picked up in college that help you to this day?
Being accountable and working hard have definitely helped me the most post-college. Once you hit college you no longer have teachers reminding you of deadlines or holding you accountable for completing your assignments. You are on your own and will only see results if you actually put in the work. It's the same in the "real" world; you either hold yourself accountable and do the work or you blame others for your failures.
If you had the opportunity to go back in time and adjust one behavior / habit you had in college, what would it be and why?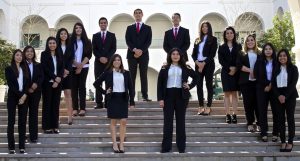 Get out of your comfort zone! I don't know what was going through my head then but I wish I would have gotten involved on campus sooner. Being focused in school was good but I wish I would have been less focused on getting straight A's and more focused on connecting with other like-minded people. College is literally the best place to find people your age who are into the same things and can offer you knowledge. There is no other time in your life where you will be surrounded by that many people your age and have that many opportunities to get involved.
Do you have any tips for other potential entrepreneurs or students in the media field looking to expand their knowledge and experience?
Of course! A couple of things actually:
You don't have to wait to be given opportunities. If you are an aspiring entrepreneur then making something out of nothing is your forte. If you can't land an internship then start freelancing either on sites like Upwork or reach out to local businesses to help out with their marketing. College is the time to try different things and figure out what you are good at and what you enjoy doing.
Now is the time to take risks because most people your age don't have a family to support or a mortgage to pay, so if you've been dreaming of starting your business, then do it! It may require upfront sacrifices – like your time – but if you love what you do, then you won't mind it.

It's great to read books, go to class, and listen to podcasts but at one point you need to find the balance between learning and doing. One thing I struggled with (and sometimes still do) was finding the fine line between being a student and executing. I naturally love to learn so I found myself consumed with consuming content. I have realized that I can actually learn more by doing that than reading about what to do. Stop

daydreaming and strategizing about how you are going to make it happen and take action.
Where do you hope to see yourself in five years?
Three of my biggest passions are business, travel, and writing, so it's no surprise that my five-year goal involves all three. In five years I see myself continuing to travel and operating my business simultaneously; as long as I have a wifi connection, I can work from anywhere. I also love to write and have been writing on Medium about business/marketing, life lessons, and travel so I see myself writing in some bigger publications such as the Huffpost.
For now, success to me doesn't involve living in a nice studio apartment, having a corporate job, and a new car. I had all that but traded it for staring my own business and traveling.
The "why" you do something is more important than "how" you do it, so as long as my "why" remains the same, I will continue to strive to inspire people through my story, actions, and accomplishments. I want to encourage others to believe in themselves and know that they can do and be anything they want as long as they are being authentic to themselves.
Please include anything else you feel important to tell our student readers, or anything you'd like to say in general!
Don't let your sense of possibilities be replaced with what society tells you is realistic. Reality is subjective; your reality is created by convincing yourself that it's actually possible. You don't have to have everything figured out now but know that the only way you will figure it out is by trying new things. Now's the time to do the things you've always wanted to, whether it's starting your own business or going on that backpacking trip.
Thanks for featuring me, it's truly an honor! If any student wants to reach out to me and ask me any questions they are more than welcomed. The best way to reach me is hello@jnlmediaco.com and they can find my website at https://www.jnlmediaco.com.