By Rafael Robledo
Congratulations to the newly admitted Compact Scholars who are now a part of our Aztec family. I hope that the transition from high school to SDSU has been easygoing. I know that the first week is quite chaotic and hectic. My words of encouragement is to keep striving for greatness and when times are tough, don't give up but rather persevere. For those returning to SDSU, welcome back and hopefully you've had a relaxing and pleasant summer break before we once again hit the books.
On Saturday August 24, 2019, the Compact Scholars Program hosted the Welcome Reception for the newly admitted Compact Scholars. This event was primarily designated to greet the new students and their families, introduce them to the Compact Scholars team and provide them with a glimpse of HIPs (High Impact Practices) as well as various resources available to them at SDSU.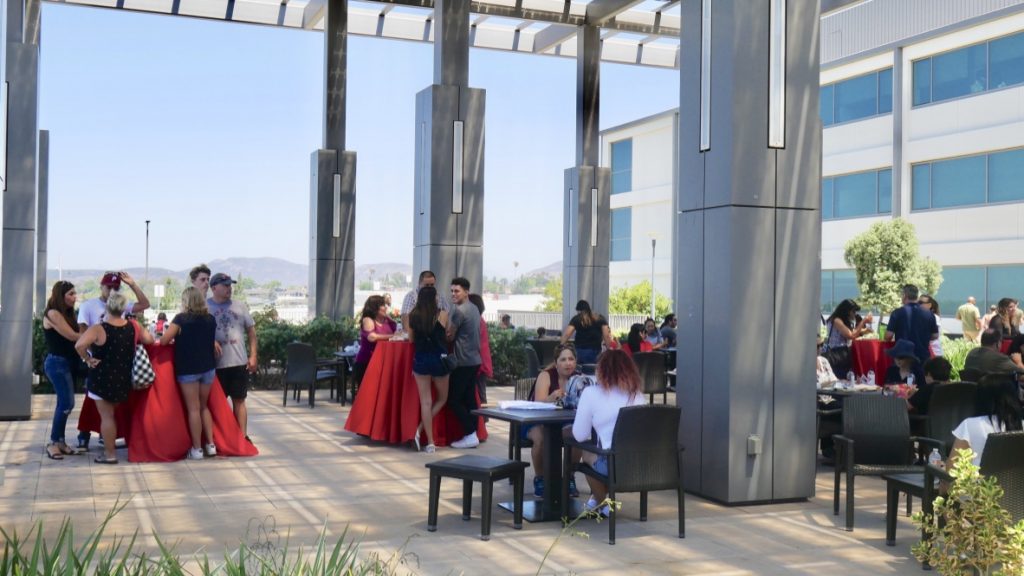 The day began with lunch provided by our community sponsor GEICO Careers and a mini tabling fair for the freshmen Compact students and their families. The tabling fair included resources from BeHIP!, Compact Scholars Program, Compact Scholars Student Association, GEICO Careers, Compact for Success, General Studies, Weber Honors College and Commuter Life.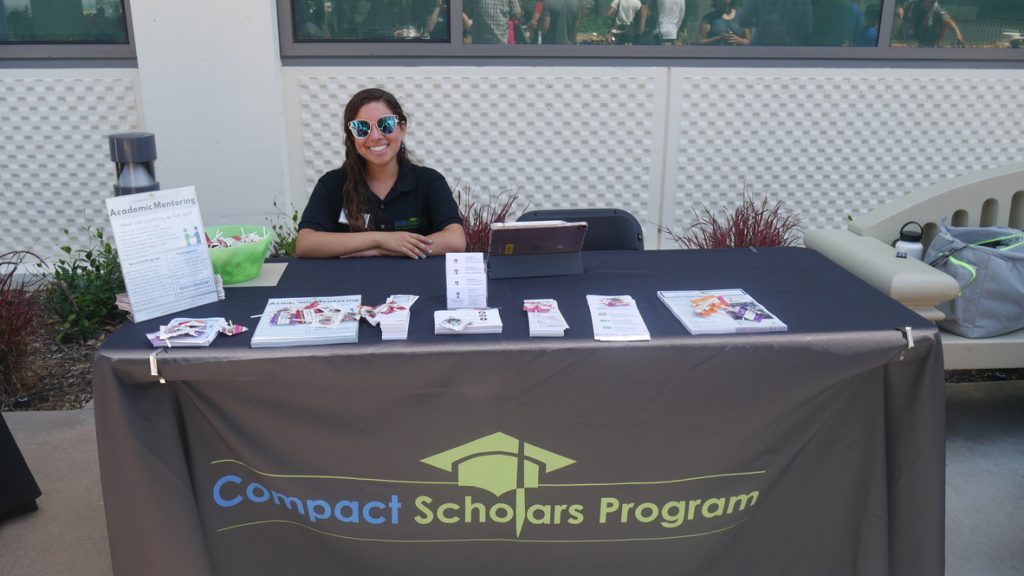 Janett Abbott, Director of Compact Scholars & ASSP, began the program in the Storm Hall West auditorium by welcoming the Compact students and their families to SDSU. Norah Shultz, Associate Vice President of the Division of Academic Engagement and Student Achievement, was the keynote speaker who also welcome the students and spoke briefly about the importance of and transition from Compact for Success to Compact Scholars Program.
Academic advising was then introduced by Justin Villaseñor, the Academic Advisor for Compact Scholar students. For those interested, if you are a Compact Scholar and/or commuter student, you can see Justin for academic advising. He has walk-in advising for the first few weeks of the semester and then advising will be by appointment only beginning September 10, 2019. To see his current advising schedule, you can go to the Academic Advising webpage on the Compact Scholars website.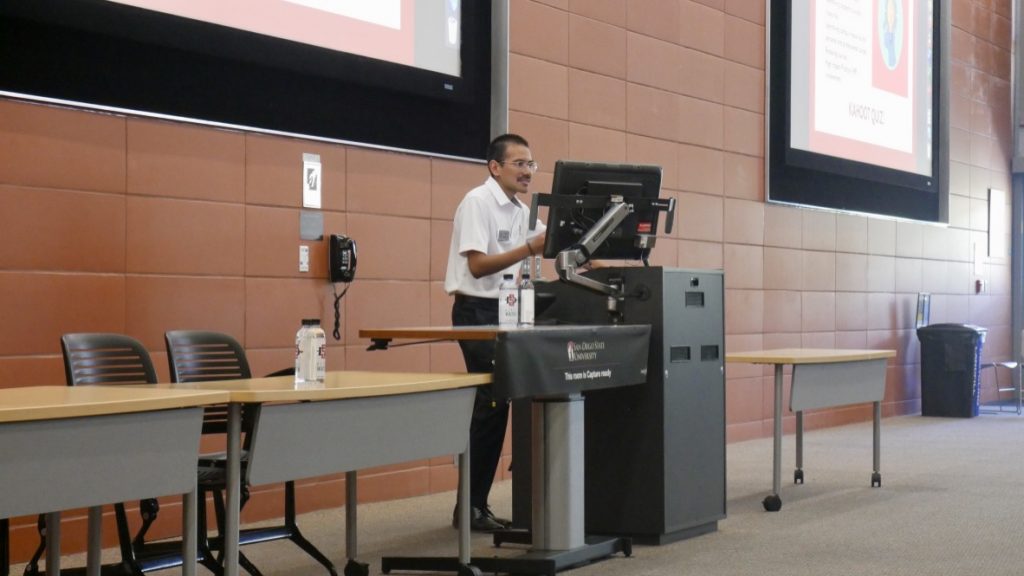 Kiana Malabanan, Compact Mentor and CSSA President, continued the program with a brief discussion of the Compact Scholars Student Association — a student-run educational organization for Compact Scholars. CSSA aims to empower its members through workshops, guest speakers, and social events to ensure that students from all majors find their momentum.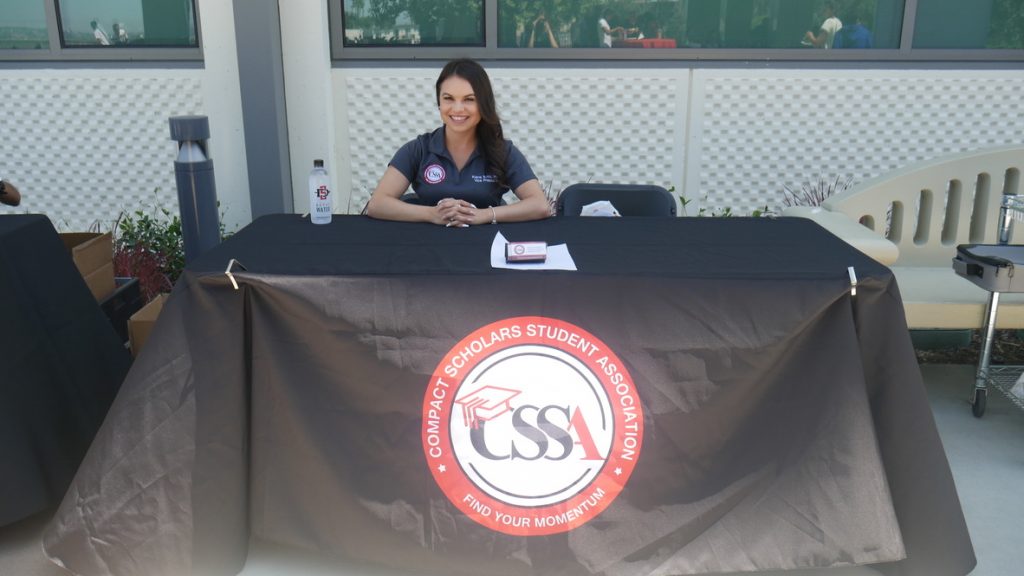 Ashley Gaetan, Academic Programs Assistant, informed students about the Compact Academic Mentor Program. The mentor program provides support and guidance to 1st year Compact Scholars. Students can establish academic and personal goals; whilst finding connection and community at SDSU and so much more. Janet then discussed HIPs (High Impact Practices) which include activities, events and initiatives that promote undergraduate student participation in Study Abroad, Internships, Service Learning, Undergraduate Research & Creative Activities.
Fiorella Morales, Coordinator of International Engagement, elaborated on Study Abroad opportunities and informed attendees that she provides study abroad advising to Compact Scholars and Weber Honors students. Amanda Fuller, Academic Coordinator of Compact Scholars & ASSP, talked about Compact Abroad and informed attendees of the study abroad experience specifically for Compact Scholars. Amanda also explained that the study abroad program for Compact Scholars in Greece currently covers two high-impact practices (HIPs) which included international engagement and community engagement/service learning. After the discussion of Compact Abroad, Amanda introduced the student panel who all shared their experiences with high-impact practices (HIPs). Their experiences included Compact Scholars in Greece, Compact Mentoring, students engaged in Compact Scholars Student Association, internships, undergraduate research and more! The panelists shared their personal experiences as well provided tips and advice to the new Compact Scholars.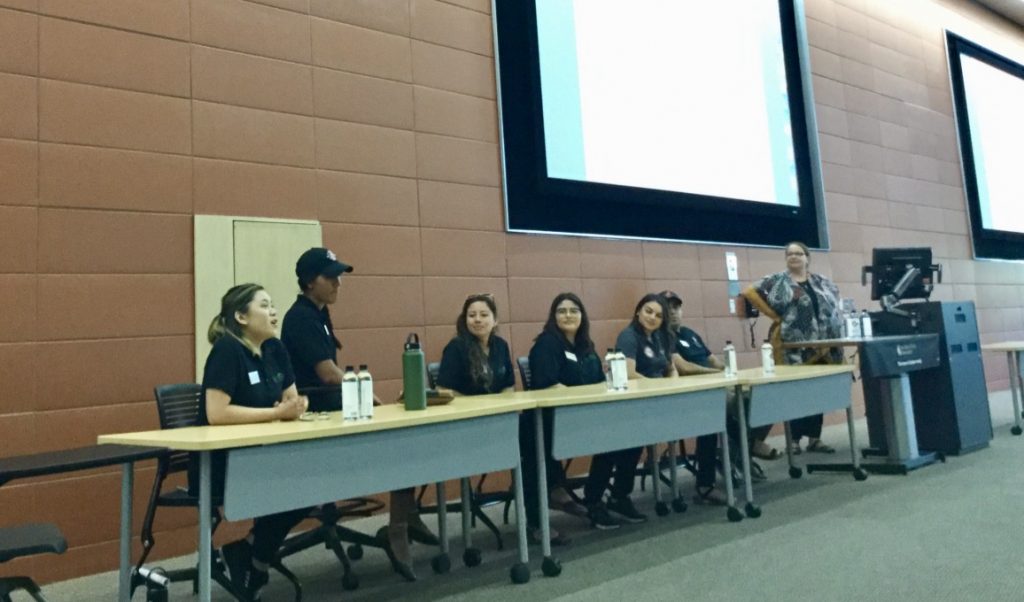 At the end of the program, there was a short survey that asked students and their guests about their experience attending the reception in order to improve it for years to come. All in all, it was a beautiful day to welcome the Compact Scholars Class of 2024!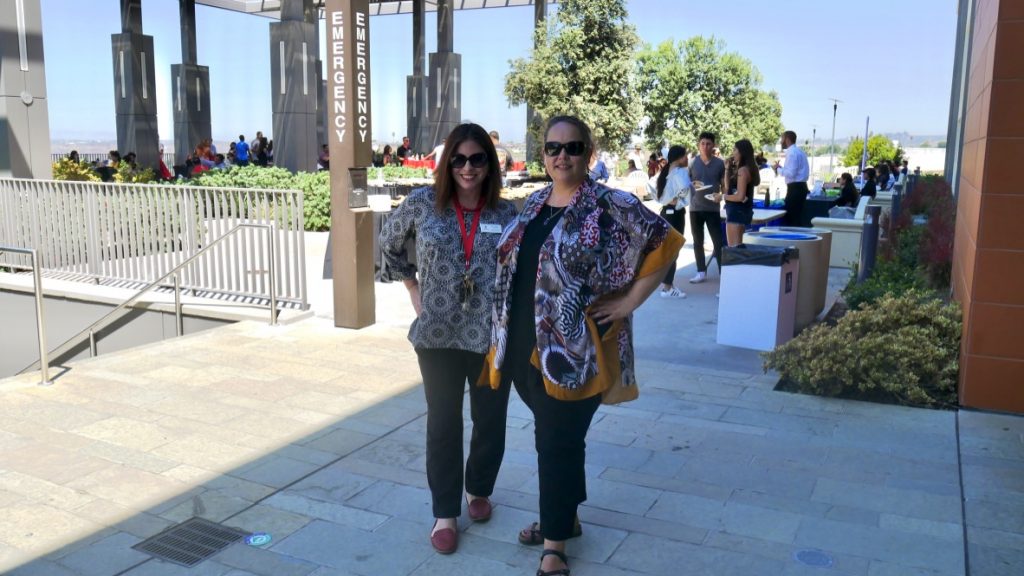 For more Information about the Compact Scholars Program please visit: csp.sdsu.edu
For Compact Scholars interested in Compact Abroad opportunities for 2020, please complete the interest form at tinyurl.com/CompactInGreece2020
Also check out the Aztec Nights website for some fun late night activities to get to know more of the SDSU community and to destress from college life!