By Paulina Cortez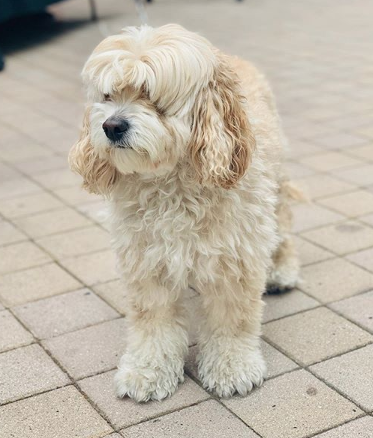 Imagine walking around the Student Union and you see people crowding around a booth. You might think, "There must be something interesting, I should go check it out!" and you are SO glad that you did because Baxter, SDSU's beloved therapy dog, was greeting students and spreading joy. That has happened to me a couple of times, even if I just get to pet Baxter for a couple of seconds, he always makes my day because he is such a cute and calm dog. Although it is the third week of school, midterms and projects will start to pick up, and so will the stress. Lots of tension will be accumulating throughout the semester, however, Baxter is here to relieve the tension. 
Baxter has been serving as SDSU's Counseling and Psychological Services therapy dog for seven years and counting! Students love Baxter because of his relaxed demeanor and his social behavior with students as he approaches them and lets himself to be pet. Baxter has been a helping paw to SDSU students over the years because as research shows, pet therapy helps destress and enhance happiness. In other words, it is healthy to spend time and play with dogs, especially with Baxter!
You may be wondering, where can I find this adorable doggo? Keep a lookout for Counseling and Psychological Services: Single Servings. These workshops happen throughout the semester and provide lots of information such as how to cope with stress, how to reduce test anxiety and how to practice mindfulness. Baxter has his own Single Servings, which is called "Relax with Bax", where he hangs out at the Student Union courtyard, ready to make new friends. If you can't make it to the Single Servings, you can schedule an appointment with Baxter at SDSU's Counseling and Psychological Services.
Visit the website www.sdsu.edu/cps if you want more information on Single Servings and how you can meet Baxter. Once you meet and hangout with Baxter, you will see that he will always be a fur-ever friend!