By Paulina Cortez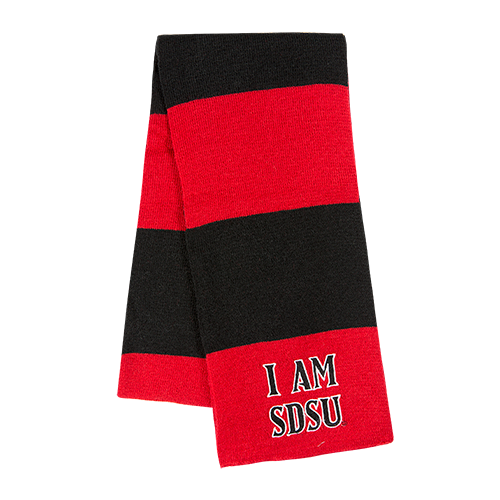 It's always a great day to be an Aztec! A great way to show your school pride is through SDSU gear. My personal favorites are the SDSU sweaters because they are nice and simple and keep me warm during the wintertime. If you're not a fan of sweaters, there are other great options such as SDSU shirts, hats or lanyards! What if I told you that there is a special SDSU gear that not only keeps you warm but its purchase supports the San Diego community?
The answer is a red and black "I Am SDSU" scarf. This scarf is currently being sold at the SDSU bookstore as part of the "I Am SDSU" campaign. This campaign is a symbol that demonstrates the impact the university has towards the San Diego community. Not just students are encouraged to participate, everyone in the SDSU community that is on and off campus can partake in the "I Am SDSU" campaign. So if you mom wants to get a scarf, she can definitely get one, after all, it is for a good cause!
But you may be thinking, why a scarf? What cause would we be supporting during the campaign? The scarf is an awesome way to show your Aztec pride, however, with the purchase of the scarf, you will be supporting the student veteran scholarships. In other words, if you want a stylish way to keep yourself warm in the winter and support other SDSU students, the "I Am SDSU" scarf is the way to go!
Social media is also a great way to show your SDSU pride and to promote the "I Am SDSU" campaign! Use the hashtag #iamsdsu when you upload your picture with your new "I Am SDSU" scarf or add an "I Am SDSU" facebook frame when you upload your new profile picture! If you would like to know more of the "I Am SDSU" campaign or see how the SDSU community is contributing to the campaign, follow @iamsdsu on Instagram. Even if its just being in the loop about the campaign, you will still be contributing to the community. And as always, have a great day Aztecs!