By Paulina Cortez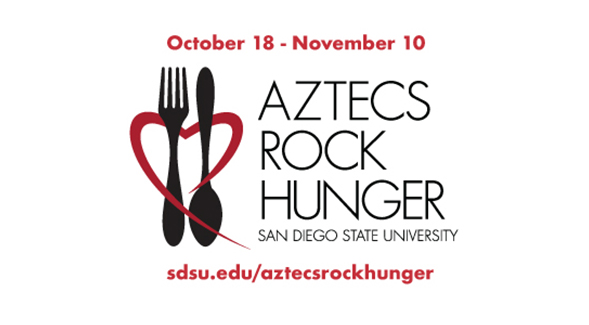 You may be walking around campus the next couple of days and spot ads for "Aztec Rock Hunger" and wonder, what is that? Is that free food? As much as the next college student loves free food, that is not what Aztec Rock Hunger is. Aztec Rock Hunger is an annual university-wide campaign at San Diego State University that is run by Associate Students. This campaign serves to raise food for the Jacobs and Cushman San Diego Food Bank. In other words, another great opportunity to give back to the community.
This is a huge campaign as it was seen last year, SDSU was able to raise 590,503 pounds of food and this year's goal is to raise 619,000 pounds of food, in honor of San Diego's area code 619'! This campaign works towards an important cause because it helps members in the San Diego community that face food insecurity, which is the state of being without reliable access to enough food for a healthy lifestyle. Part of the food raised on Aztec Rock Hunger is donated to the Economic Crisis and Response Teach, an SDSU program that assists students in crises such as housing or food insecurity. So help out a fellow Aztec this year by donating to the Aztec Rock Hunger campaign.
Aztec Rock Hunger will start this friday, October 18th and will run through November 10th. There are six ways you can donate to Aztec Rock Hunger: you can make a monetary donation, you can donate while you purchase your snacks at the Aztec Market or drinks at the campus Starbucks, you can donate at the Aztec Proud events on campus, you can donate at an SDSU athletics event or SDSU special events or you can donate non-perishable food in the red bins that will be all around campus. You can find out more information on Aztec Rock Hunger at https://as.sdsu.edu/rockhunger/. Let's help out our community Aztecs!